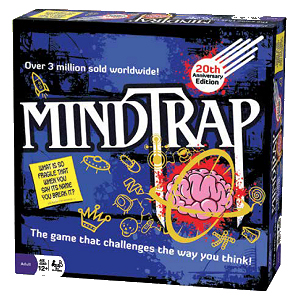 $29.99
MindTrap: 20th Anniversary is packed with puzzles, mysteries, brain teasers, conundrums, and trick questions. There are added questions in two new categories and added loads more content. Your brain will get a workout like never before!
$9.99 each ----- $24.99 for 3

MindTrap Geometrical Riddles are a stimulating assortment of pattern recognition problems, geometrical puzzles, and mathematical riddles, that will exercise your brain while tickling your funny bone. It's not what you know that counts - it's how you think!
&nbsp

$9.99 each ----- $24.99 for 3

Train your brain with these card games presented by MindTrap. Choose from baffling riddles in Brain Cramp, ultimate whodunits in Shadow Mysteries, and logic and visual puzzles in Left Brain, Right Brain.