&nbsp



---

&nbsp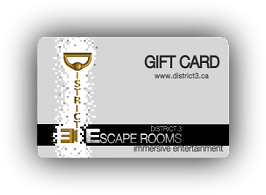 $69.99

Feel the thrill from an escape game in your own home! The box contains four different 1-hour Escape Room adventures and each adventure has three parts. The scenarios include: Prison Break, Temple of Aztec, Virus, and Nuclear Countdown

$24.99 each

In Funland, you are given tickets to the amusement park, but half of the rides are not working, and the rain starts to pour. In Murder Mystery, you must solve a crime about the death of a rich and famous man. These expansion packs requires the main game to play.
&nbsp

&nbsp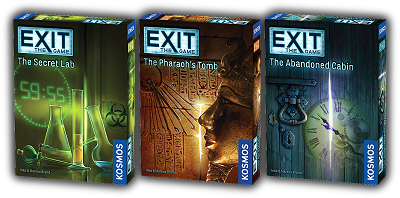 $24.99
Exit The Game is a great alternative way to enjoy the escape room experience at home, whether it be by yourself or with others. Each of the three scenarios, each with their own difficulties: The Abandoned Cabin, The Secret Lab, and The Pharaoh's Tomb. They come with a decoder disk, 80+ cards, and more.

&nbsp

$17.99

Inside this box is an interactive scavenger hunt that inspires creativity and rewards audacity: Take a selfie with a stranger, give an anonymous gift, become a flash mob of one. Complete each objective and then pass the card along to an unwitting accomplice, who now becomes part of the game!

$19.99 each

Cardventures is a series of choose your own path books in a deck of cards in which you start a game by picking a card, read the text and choose one of the options at the bottom of the card which leads to another card and so on. The story will develop until you reach an end point. Cardventures are for one or more players, age 8+.
&nbsp

&nbsp

$29.99

The Ultimate Brain Challenge welcomes you, where you'll need to muster all your mental dexterity to solve these riddles, brainteasers, and conundrums. For this game they have compiled questions from the four original Noggin Workshop card games and added loads of new content.

$19.99 each


&nbsp

$9.99 each

&nbsp

$29.99

MindTrap: 20th Anniversary is packed with puzzles, mysteries, brain teasers, conundrums, and trick questions. There are added questions in two new categories and added loads more content. Your brain will get a workout like never before!

$9.99 each

MindTrap Geometrical Riddles are a stimulating assortment of pattern recognition problems, geometrical puzzles, and mathematical riddles, that will exercise your brain while tickling your funny bone. It's not what you know that counts - it's how you think!
&nbsp

$9.99 each

Train your brain with these card games presented by MindTrap. Choose from baffling riddles in Brain Cramp, ultimate whodunits in Shadow Mysteries, and logic and visual puzzles in Left Brain, Right Brain.

&nbsp
| | | |
| --- | --- | --- |
| $14.99 | | $4.99 |
| IQ Buster Ball Traps are a challenging new series of brainteasers with one nifty feature. At the centre of every puzzle is a wooden ball that you have to try and liberate. | | IQ Buster Wire Puzzles include an assortment of four classic wire puzzles. The perfect gift for the puzzle person in your family or office! |
| $6.99 | | $9.99 |
| IQ Buster Wooden Puzzles include stars, pyramids, barrels, and cubes. These classic wooden puzzles are poised to give the grey-matter a thorough workout! | | IQ Buster Big Nails are solidly made from chunky steel rods, then chrome plated to give a stylish finish. These bent metal puzzles are guaranteed to tax, tease, and torment you! |
| $6.99 | | $7.99 |
| IQ Buster Chroma Puzzles are classic wood brainteaser puzzles that come in fun new shapes and feature bright new colors. You'll go bonkers for them! | | IQ Buster Rope Puzzles feature an assortment of four rope and wood brainteasers. These puzzles range in difficulty from the 'Snaker' to the fiendish 'Tangler'. Tie your mental faculties into knots! |

&nbsp


$11.99 Model car kits have evolved to a new series of miniature detailed 3D D-I-Y models built by laser cut sheets. Completion time varies from one to another, roughly 2.5 - 3.5 hours each unit.
Tool Kits $4.99
LED Platform $9.99
KEYCHAINS / NECKLACE PENDANTS / COLLECTIBLES

&nbsp


&nbsp


&nbsp


&nbsp


&nbsp


&nbsp

$1.99 each

&nbsp
USB DRIVES / CHARGERS

$19.99 (8GB)
$29.99 (32GB)



$24.99 (8GB)
$34.99 (32GB)



$19.99 (lightning)
$19.99 (micro USB)


&nbsp
&nbsp

$24.99
Featuring a fitted look and the ultra-soft feel of 100% preshrunk ringspun combed cotton. Comes in small, medium, and large. Other sizes can be ordered in.

&nbsp
2237 6TH AVENUE
Regina, SK. S4R 1B3
Corner with Lorne St,
four blocks north of Downtown.

BOOKING OPTIONS:
10:30am to midnight
Contact us for availability on
booking outside of business hours.

&nbsp